Tech Data's Marc McClure: Partners Need to Act Quickly
Tech Data's Marc McClure: Partners Need to Act Quickly
In a Q&A with Channel Futures, Marc McClure, Tech Data's senior vice president of U.S. commercial sales, talks about how his company can help partners of all types seize new opportunities, as well as the capabilities his company gained through its acquisition of Avnet Technology Solutions.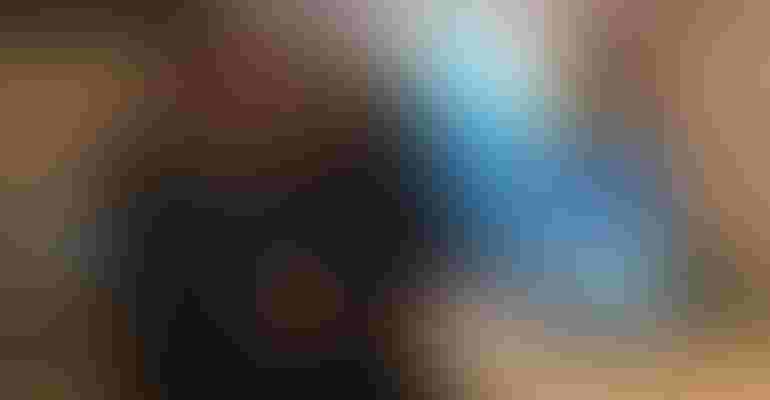 (Pictured above: Tech Data's Marc McClure (left) takes in a demo at the company's booth in the expo hall.)
TECH DATA CHANNEL LINK — Partners of all types need help to make the most of the new opportunities created by customers' changing technology needs, and Tech Data stands ready to help them with that transformation.
That's according to Marc McClure, Tech Data's senior vice president of U.S. commercial sales. The distributor's Channel Link conference is in full swing in Austin, Texas. VARs, resellers, MSPs and other channel partners have joined 80 vendor partners for the event.
The latest opportunities for partners include Tech Data's Level Up online training and enablement platform, new offerings as part of its RECON security suite, and the #NewTechNow marketing campaign.
"The partners, our customers, are here at this conference because they want to learn, and they intuitively understand that the industry is changing, and they intuitively understand that if the industry's changing and if they don't change with it, they may have troubles down the road," said Rob Webster, Tech Data's director of SMB sales. "The good news is they're coming to us and they say, 'I know you can pick, pack and ship, and you can give me great pricing availability, and you do that very, very well, but I need your help in so many more areas.' Now we're taking that conversation from a transactional conversation into, 'OK, Tech Data's an IT distributor by name, but in reality we're a solution provider that aggregates great solutions, and then vets them and brings them to you to be able to work with business outcomes for your end user.'"
Tech Data's four key strategies for the year include: strengthening its end-to-end products and services; investing in next-generation technologies and delivery models; optimizing its global footprint; and transforming the company digitally.
In a Q&A with Channel Futures, McClure talks about how his company can help partners of all types seize new opportunities, as well as the capabilities his company gained through its acquisition of Avnet Technology Solutions.
Channel Futures: What is the overall message here for partners?
Marc McClure: It's about enablement. From my perspective, historically, most VARs have looked at the transformation of their business to be either, "I have to buy or I have to build." And fundamentally we're trying to drive from a messaging perspective at Tech Data that there's a third option — and that's borrow. You buy, build or borrow now. So consider the investments we make; it's all these capabilities and resources that you see around here — and leverage that into their business. So they can accelerate the adoption and development of the practice without having to expend the capital that may be necessary to get it off the ground on their own. So if there's one overarching message, it's about that partner enablement concept.
Partners, we want your thoughts on IT and data-center security trends. Take our survey now!
CF: So as their customers' needs are evolving, partners' needs are changing and therefore Tech Data's?
MM: It's the train-the-trainer concept. So as we see where the market's going, we have insights that most companies don't always have access to, market data and things of that nature, but it's leveraging those insights to help understand. "OK, this is where the market's going, here's how we're going to help you get there, here's the blueprint to get there," and that way they're able to be more relevant to their customer base for the long run, and more vibrant as a company for the future, versus potentially being disintermediated from this industry.
CF: Is Level Up a brand-new program for partners?
MM: To some degree yes, but it's built off of an existing program. Within Avnet Technology Solutions they had a platform called Knowledge Network, which was a learning and development platform that aggregated a lot of content, resources and materials in one place, and what we've done is we've made … a more ubiquitous platform that is going to be more accessible to a wider base of clients, with a refreshed content and refreshed strategy around the content that's being presented and delivered. But the intent behind it altogether is, how do we help bring more of our subject-matter expertise, more of our industry expertise to the masses, so to speak, and in a manner that they can consume at a time that makes sense for them. If you think of the traditional way to get knowledge into people's heads, so to speak, they've either got to dedicate time to come to a conference like this [or] they have to dedicate time to attend a structured webinar, and that may not be conducive to their schedules or the way that the pace of their business is moving. So we want to create it in a manner that they can go out and consume content and data, and information that's going to help them be successful in their business — on their schedule. And we're finding with the partners, rather than leveraging it, they're using the information in a lot of different ways. One is to on-board and orient new associates into their organization from a sales perspective.        
CF: What have you been hearing from partners and how does that translate into what Tech Data has to offer?
MM: What I'm hearing is they need help. Fundamentally every partner needs help. They have great grasps of their local market and what's happening around them, but they don't always have an avenue to see the bigger, more macro trends that are happening, and then once we've educated on them, they don't know how to go consume that. They have a hard time finding the right resources, the right people, the right investment scenario or, "Where do I invest?" There [are] a lot of different things, and "where should I be starting first?" So from that perspective, we need to be able to help get them the resources and capabilities in order to vet out the market. We do some analyses of their businesses, where are their strengths, where are their weaknesses, and what's a natural complement to what they do today? We try to move in that direction, and then we put rafters around that for how to go expand that, and take it from a capability to a competency.
CF: Are there aspects of this conference that are unique compared to previous Tech Data partner conferences?
MM: If you look at this conference, it's geared more toward the partners that are servicing that midmarket-and-below space. And a lot of the folks in the room here maybe don't have the time or the wherewithal to be able to attend OEM conferences or industry conferences … so as a result this is really a comedown and saying, "Here's where you take these technologies into those markets" because you're not always going to hear that in say an HPE Discover or a Cisco Live. To some degree you will, but in other aspects they may miss that segment of the market where these partners tend to focus.
CF: And there [are] many different partner types here, right?
MM: Very much so. Virtual CIOs, MSPs, service providers … we have folks that are very specialized in a unique vertical market or a technology market like security and are really looking to expand beyond that. So when you look at the dichotomy of our customer base, it kind of runs the gamut of every type of resell partner that's out there, whether it's an ISV, a security partner, network-centric or security-centric, or data-center-centric. And so a lot of these folks understand that in their respective markets they may have tapped out their capability and they need to go to the next adjacent market that makes sense to them from a technology perspective. These folks are all shapes and sizes, and as you can see from the representation we have here, it's designed to be able to speak to almost any partner business type that exists.
CF: When the conference concludes, what do you hope partners walk away with most?
MM: No. 1 is understanding that my No. 1 responsibility as a company is to be a support organization, that we're here to help them grow. We're here to help them beat their business objectives. I don't touch an end-user customer, so I have a vested interest in them being extremely successful in what their endeavors are going to be. So my hope is when they leave this conference they understand the power of Tech Data behind them, but more importantly that they act upon what they've learned here quickly. It's very easy to go back to the office and ease back into the day-to-day, and tend to lose sight of the things that they've taken out of this conference. So I hope they understand that we've got a tremendous amount of resources here to help them go drive a new business objective — not only drive it, but enact upon it immediately.
CF: You talked about how Tech Data has benefited from its Avnet acquisition. Can you elaborate on that?
MM: If you think about it in a traditional sense of where Tech Data came from, we've had a lot of great investment around enablement and things of that nature, but now there's the depth of skill sets that come in. For example, I would argue that we've always been really good at configuration work and integration work, largely more on the commodity side  … but now when you look at the full complement of capability that came in from the acquisitions, those skills are now on steroids. We are so much larger, so much better and so much more proficient. We have every hyperconverged infrastructure play or reference architecture that's in the upper right quadrant from a Gartner perspective in the line card now and a tremendous amount of technical talent that surrounds that, so our partners who really struggle to make an investment in that can leverage that capability.
When you look on the side of our helping bridge the connection between these private hybrid clouds, Tech Data has reusable intellectual property that's available to our customer to go round out and build out a better solution that drives an outcome that they don't have to go figure out on their own. So we have cloud plug-ins that are going to connect these workloads from private to public in a very seamless fashion. So all of these types of capabilities, and then of course on the services side, the extension of Tech Data services capabilities from where we were. If you recall, about three years ago, we had acquired STG, which was a great entrance point into that services space … and now that whole capability got enhanced by bringing in the service capabilities that Avnet had, as well what they had built out over the years. So now when you start combining those in a manner that can help our partners go take down pieces of opportunity that historically they've never been able to pursue, it's a really exciting time to be in distribution, but also as a partner knowing they've got the strength of a $36 billion company behind them.
CF: Are there further areas in Tech Data that could be enhanced by additional M&A?
MM: We're never going to sit still. We're always going to look to see what the market needs, what the OEMs need and what partners need. And if it makes sense for us to be able to go spend some of our capital to go address those concerns, we're certainly going to do that. It doesn't always have to be a build-or-buy thought process for a VAR or solution provider; it really should be a, "How do I leverage the strength of my partnership with my distributor, and Tech Data specifically, to be able to go help solve a business problem?" So we listen to the feedback, we look at the market data, we read the trade publications and we keep our finger on the pulse, and we will always look at things that make sense to help not only drive better performance for our shareholders, but really for better performance on the side of our partner base.         
Free Newsletters for the Channel
Register for Your Free Newsletter Now
You May Also Like
---
Channel Futures Leadership Summit

Sep 16 - Sep 19, 2024
Sep 16 - Sep 19, 2024
The strength of the channel is undeniable as we saw at our record-breaking Channel Partners Conference & Expo in Las Vegas. As the landscape of the channel continues to evolve with M&A, emerging partner models and the race for recurring revenue, IT and communications vendors are doubling down on their partner programs as they seek new avenues for growth. As a result, channel leaders have to be more agile than ever to stay ahead of the curve. At Channel Futures Leadership Summit, current and future leaders will come together in sunny Miami to connect, learn from one another, collaborate and hone their leadership skills. Get notified when registration opens for 2024.
Get Notified